Stuck on ideas for aftermarket wheels to suit your Audi SQ5? Well we're here to help as one of our team recently picked up a 2018 model and obviously the first thing that needed doing was replacing the stock wheels. Read on to see the thought process and options that were considered and what the final choice was.
Deciding on size for your SQ5 wheels
The first thing that needed to be considered was what size wheel to go with. There are more options available if you switch to a 20-inch or 22-inch, however that rules out reusing your OEM tires. In the end for budget reasons and to keep things looking fairly OEM we decided to stick with a 21-inch set up and re use the OEM 255/40/21 tires. The factory wheels measure 21×8.5 ET34 and we ended up going with a 9.5″ width so once the tires reach the end of their life they will be replaced with something a little wider.
SQ5 wheel option 1 – Vorsteiner V-FF 109
The first wheel that came to mind was the V-FF 109 flow formed wheel from Vorsteiner. However, in the finish (Zara Grey) and size (21×10 ET30) that we wanted the wait time on these was around 3 months. Unfortunately driving around on stock wheels for that long wasn't an option! Moving on…
SQ5 wheel option 2 – Rohana RFX10
As can be seen here, the RFX10 mesh design from Rohana compliments the SQ5 nicely. These are available in either 21×9 or 21×10.5 ET35, but with our desire to keep the 255/40/21 rubber the 10.5″ option was ruled out. So the 21×9 made it on the short list.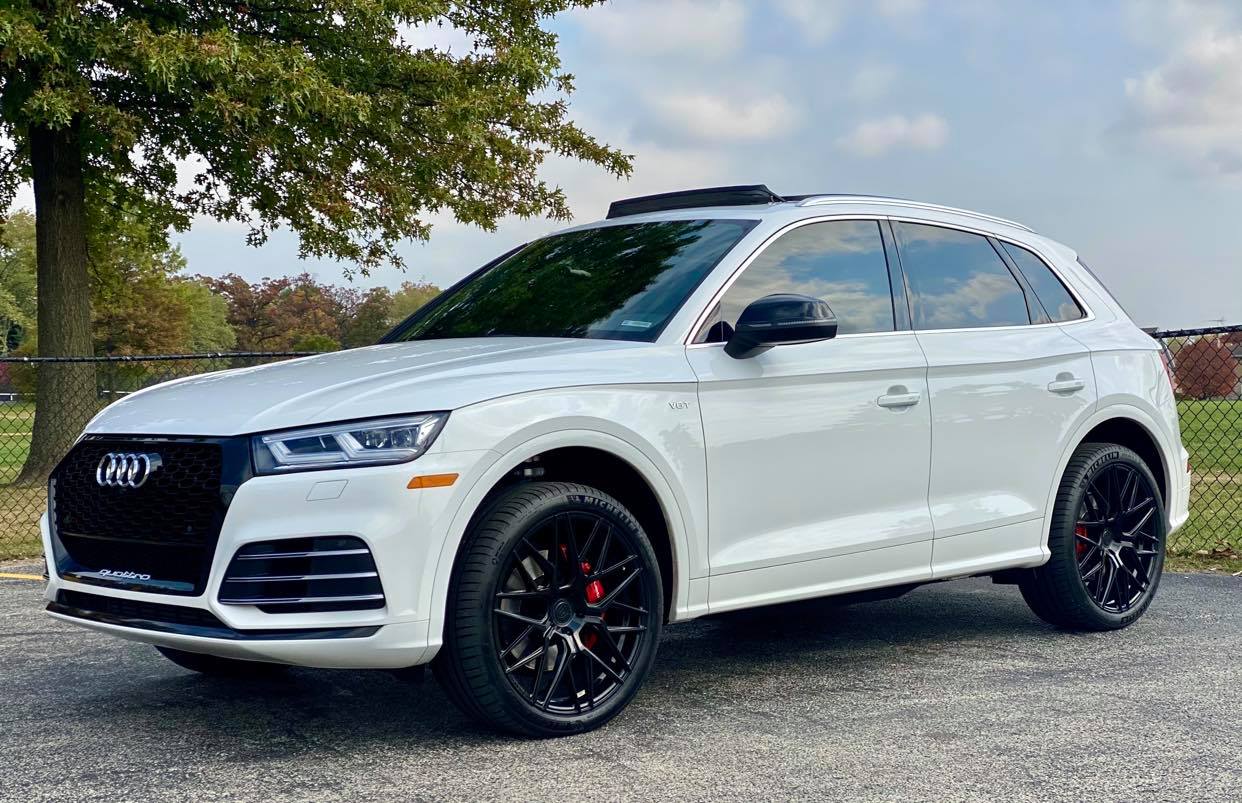 SQ5 wheel option 3 – Forgestar CF10
Another option that we didn't initially consider but was suggested to us by the team at Vibe Motorsports was the Forgestar CF10 (flow formed). These come in a 21×10 with a custom offset of your choice. However they were quoted at 7 weeks build time which again would not work for us.
SQ5 wheel option 4 – Vossen VFS-1
The SQ5 owner is clearly a fan of multispoke wheels so another design that fit the bill was the VFS-1 by Vossen. These are available in a 21×9 ET32 fitment to suit the B9 SQ5. However, there was something else in the Vossen range that just couldn't be ignored…
The winner – Vossen HF-4T
Ever since this latest Hybrid Forged design from Vossen was dropped in early 2020 it was a favourite. Once it became obvious that these were within budget and could be built in around 3 weeks the deal was quickly done. Given the SQ5 is white with a bit of chrome around the place it was decided some silver wheels would compliment it nicely. The black wheels/blacked out optics is very popular but a little overdone now in our opinion. The finish we settled on is "Satin Silver" which is one of the 9 optional finishes available from Vossen.
We settled on the 21×9.5 ET30 fitment and had a choice of the following profiles:
Option 1
21×9.5 flat concave profile all around
Option 2
21×9.5 flat concave front and 21×9.5 deep concave rear
Option 2 was the obvious choice and as I'm sure you will agree the concave on the rear looks sensational.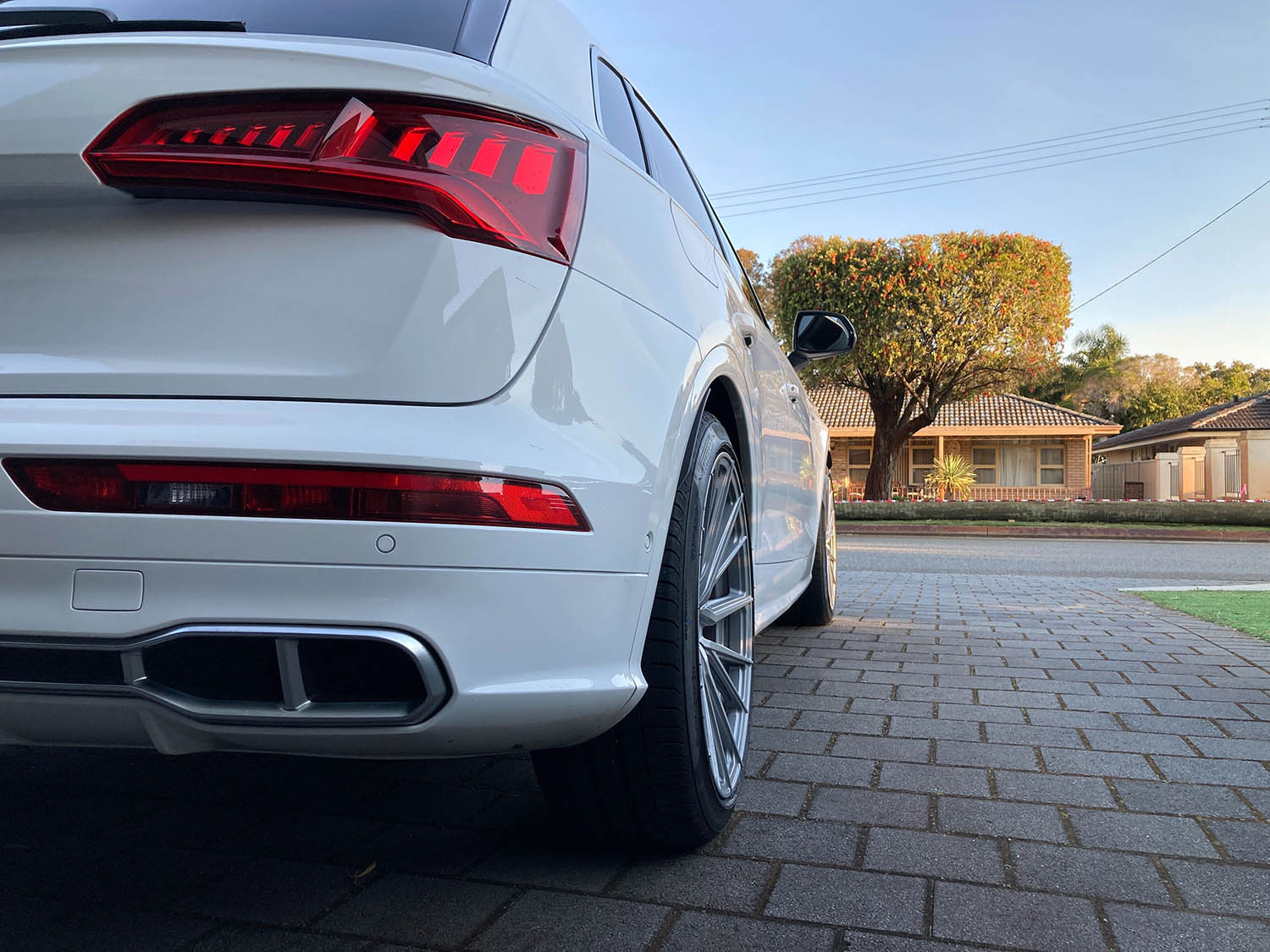 You can see more of the finished product in our gallery.
Here is another B9 SQ5 with the same wheels, but this time in Tinted Gloss Black on a grey car.
We hope the above helps you with some ideas for your SQ5 but also make sure you check out the gallery to see what other options are out there. Once you have your new wheels please add some photos to our gallery to help other owners out.